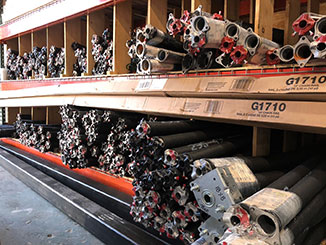 At first glance, it may not be obvious why the extension and torsion coil trampoline springs used in garage door systems are so important. These hardware components are vital for the proper operation of these mechanisms. Without them, the system will be virtually useless, and when they break, they can cause serious injuries, and cause the door to slam shut. It's therefore important that you understand how they work, and how they need to be maintained.
Let's Start With Extension
Although most modern residential systems use garage door torsion springs and they will be our main focus, there are a few things you should know about their extension based counterparts. These springs come in pairs and are typically installed over the horizontal sections of the tracks. They work by stretching as the panels lower, and then contracting in order to help the door rise back up. Therefore, if one of them breaks, the door may be hanging slightly on one side. Secondly, special safety cables run through these components so that, in case they break, they'll have something to anchor them in place and keep them from whipping around and hurting someone.
Moving On To Torsion
When it comes to the torsion coil springs, there is a lot of difference in terms of structure and function. These units are far stronger and more flexible, so often times only a single one will be enough. The torsion spring is fitted over a shaft which is fixed above the door. The shaft has drums which have lift cables looped around them. These cables are connected to the bottom of the door and they're the ones that pull it up and lower it as the torsion spring twists and unwinds. Because these units are loaded with a huge amount of tension (they have to counterbalance the weight of the panels after all) they should never be touched or adjusted by anyone other than a professional.
Proper Maintenance and Care
Spring care is a very important part of any garage door maintenance routine. Most modern springs are made from galvanized steel and this makes them resistant to corrosion, at least while their protective zinc coating stays intact. Extension springs do not need to be lubricated, but for torsion units, this type of task is essential, as it helps to ensure their smooth and quiet operation. They also need to be adjusted from time to time to make sure the door stays balanced and that they aren't overstraining needlessly.
When Urgency Is Needed
When one of these units breaks, regardless of which type it is, emergency response will probably be required. Broken spring repair must be provided immediately so that the door does not pose a safety risk to you, your family and your property. It's usually better to have these components replaced before they break, to avoid more dangerous scenarios. Give our team at Garage Door Repair Hutto a call and our experts will take care of this for you.