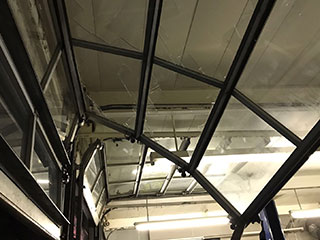 There are a lot of reasons your garage door can run into trouble or even break down completely. Naturally, malfunctions can be incredibly annoying and will take time and money to fix. Some are more common than others, though, and recognizing them in time will help you get them fixed before they cause other problems.
Dented and Damaged Panels

This is one of the most common and more frustrating problems you can encounter. It's early in the morning, you want to leave for work and suddenly you notice a big dent in your door. Not only does it look bad, if it's serious enough it can also prevent the door from opening. Dents are usually caused by accidental car bumps or rogue baseballs or basketballs. If you live in a neighborhood with a lot of children, it might be wise to go for a stronger garage door that does not dent too easily and keep an eye out for any intentional or unintentional vandalism.

Door Frozen Shut

Another thing you wouldn't want to encounter before leaving for work during the cold winter months is discovering the door has frozen shut. Luckily there are easy ways to prevent this so you never have to wait for summer to come around! One thing you can do is apply silicone spray on a rug and use it to wipe the bottom of the door. This will prevent water, and therefore ice, from causing it to stick. Another simple trick is spreading salt under the door. You should also make sure your door has a bottom seal and that it's in good condition, as this will prevent rainwater from getting inside your garage.

Broken Garage Door Springs

This is probably the most common problem homeowners tend to encounter. The springs are under a lot of tension day in and day out, so it's only natural for them to eventually give out after enough time passes. When that happens, your door will become impossible to move, and you'll need to have the broken unit replaced in order to be able to keep using the system. To prevent this, or to at least avoid the inconvenience the problem presents, you need to either perform spring maintenance on a regular basis or to have it carried out by professionals. This type of routine won't make the springs last forever, but it will increase their longevity and reduce the likelihood of them breaking before someone (you or the technicians) notices they're reaching the end of their service life.
Seek Professional Help
So there you have it, three common issues and some easy tips to prevent them. Remember, most garage door problems are very dangerous to try and handle yourself, so give our team a call as soon as you find something wrong. Our experts at Garage Door Repair Hutto will be happy to help you with whatever you need.