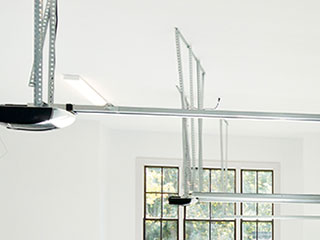 Without an automatic opener, using your garage door will take a lot more time and effort. If you need to get your car out in the morning, or get in and park it at night, you'd have to first open the door, drive your car through, then get out of it and close the door back down. An opener takes care of all that for you. All you need to do is press the button on the remote control.
How Does It Work?
An opener works by essentially replacing you and the initial push or pull you would normally give the door if you were to use it manually. The springs do most of the heavy lifting, but the motor unit does the pushing or the pulling. It works by generating a certain amount of horsepower with its electric motor, and conveying it to the door via a drive system (usually either a metal chain, a reinforced rubber belt or a threaded metal rod) and a trolley, which is what connects the opener to the door. Modern models of have special features like safety sensors, auto-reverse and backup battery, which can help make your home more safe and secure. They can also be controlled via a wireless keypad, a remote, and even your very own smartphone (provided that they have WiFi compatibility)
Professional Opener Repair
There are many things that can go wrong even with the most sophisticated LiftMaster or Genie garage door opener model. The motor may get overheated because of extensive use and its gear will wear out or break. The circuit board may fail or start glitching, or, albeit rarely, it could get fried. If something like this, or anything else, makes your opener stop working properly, our team will gladly resolve the issue and ensure the unit returns to its safe and smooth operation.
When Opener Replacement Is Due
The quality of our garage door repair service has always been and will be extremely high thanks to three major factors. The first one is the expertise of our technicians. Our specialists are able to fix the latest devices made by Genie, Craftsman, Chamberlain, and all the other top brands. Apart from repairing broken chain drive units or old screw drive models, our team can also help you find a new motor unit for your home. We'll take full consideration of your budget and other requirements you may have, in order to offer you, for example, an ultra quiet belt drive opener, or a reliable and powerful chain drive model, that can be loud because it won't be installed in an attached garage. Once you've found the right model for you, our team will install it, set up the travel limits and the force and program the remote for you.
Contact Garage Door Repair Hutto Today
If you need to have a problem with your opener fixed, you want to schedule a professional maintenance appointment, or you'd like to consult with our experts about which new model is worth upgrading to, just give us a call.
Count on our team for:

Garage Door Roller Repair

Garage Door Weather Stripping

New Garage Door Keypads

Garage Door Transmitter Repair