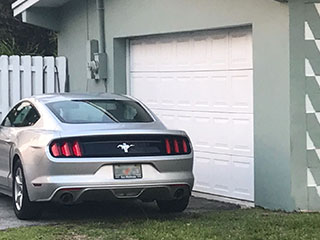 Springs break, motor gears wear out and even steel panels can dent or start to rust after a while. There are a lot of issues that can plague your garage door system, many of which can result in a breakdown, which may cost you a lot of money to repair. However, there is a way to minimize the likelihood of an accident and to ensure that all sorts of preventable problems don't end up manifesting. That way is called – maintenance.
Look. Test. Adjust
Those three words are the motto our maintenance specialists live by. Our team begins by visually inspecting every single part of the system, from the smallest screw to the largest panel. If any visible evidence of damage is discovered, we repair the affect component or – if the damage is too severe – replace it with a new one. If everything appears to be in good shape, we move on to the second phase.
A Few Crucial Tests
It's very important that your system's functionality is checked every so often, in order to ensure that it remains safe for use, and that it isn't overstraining needlessly. Our technicians will perform a balance test on your door to see whether the tension of the springs needs to be adjusted. We will also test the auto-reverse feature of the opener, as well as the alignment of its safety sensors. If any of these fail our tests, will move on to phase three.
Setting Things Right
A door that can't stay open halfway has spring related issues. Our team will adjust the tension of these hardworking components to ensure the door is once again balanced properly. If the system doesn't reverse when it physically encounters an obstacle or if its sensors fail to detect something is blocking its path, we will adjust the opener's force limit switch or change the alignment of its photo eyes. Count on our team to make sure your door is completely safe for you and your family to use.
Give Us a Call
If you want to make sure you avoid lots of preventable issues that may affect the performance of your system, contact our experts at Garage Door Repair Hutto today. Our professional maintenance service will make sure your door is as safe and functional as it can be.
Looking for more? We also offer:
Oil Tempered Torsion Springs
Overhead Garage Doors
Garage Door Tune Up Services
Garage Door Off Track Repair